Meet Past the Gate
We are Past the Gate, a landscaping company and gardening services provider transforming back yards, front yards, side gardens, and more into luxury outdoor spaces for over 30 years in the beautiful Bay Area.
Begun in 1985 as G. J. Wrenn Company, Inc. and renamed Past the Gate in 2008, we offer landscape architecture services, garden design, and gardening and maintenance services in The Greater Bay Area.
As Company Founder, as well as Lead Landscape Designer, Landscaping Contractor, and Horticulturalist, Greg Wrenn creates outdoor spaces that are as useful as the space inside your home is unique, and as a result, his work is in high demand.
Our mission is to create outdoor spaces that are both highly functional and aesthetically pleasing.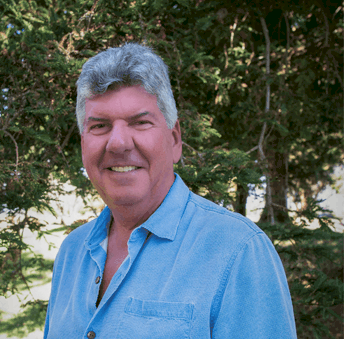 Meet Greg
Greg Wrenn is the owner and founder of Past the Gate. With over 30 years of experience in the industry, Greg's passion for design, horticulture, and landscape architecture can be seen in every beautiful garden in our portfolio. Greg studied Agriculture with a focus in Ornamental Horticulture as well as Construction and Design at Cal Poly San Luis Obispo; graduating with honors in 1983. He is a member of the California Landscape Contractors Association; he has served as the CLCA's East Bay Chapter president for three years and as the State Director of Membership for two years. Greg has judged several awards ceremonies for the organization, including for the Sacramento, San Joaquin, North Coast, and San Francisco Bay Area Chapters.
What sets Greg apart from other landscape designers and landscaping contractors is his passion for design stemming from a deep family history full of artists, architects, sculptors, and builders dating back to the 16th century in Italy, Switzerland, and England. Greg's hands-on approach to landscaping and design means that he is a continuous presence throughout every job.
One of Greg's favorite gardens in our portfolio includes a dual-level water feature separated by a seat wall that enables the visitor to physically engage in the flow of water and appreciate the garden with all senses.
His goal for every client is to create a space that can be used for years to come. Greg also understands that your needs for use of space may change over time. One of Greg's greatest transformations was a complete landscape remodel that turned one family's no-longer-needed kid-friendly garden into a resort-like entertainment and lounging area for sophisticated parties.
Greg strives with every client and project to ensure that function and beauty combine to enhance your space, extending your experience of home to include everything past the gate.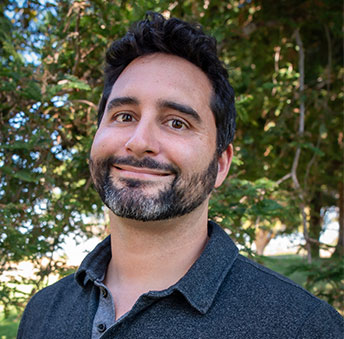 Meet Clay
Clay Tully is our licensed landscape architect and contractor. With over 10 years of experience in landscape design and construction, Clay brings an artistic eye for design combined with  an architectural knowledge of how to best utilize space, in order to deliver beautiful and practical solutions grounded in our clients' needs and budgets. Clay holds a bachelor's degree in Landscape Architecture from Cal Poly, San Luis Obispo where he received a prestigious Award for his Senior Project, a design for a California Native wildlife research center. Clay is a member of the American Society of Landscape Architects and the California Landscape Contractors Association.
Throughout his career, Clay has participated in the implementation of numerous award-winning gardens in the greater Bay Area. Clay's deep passion for design with an emphasis on material and plant selection combined with his understanding of the microclimates throughout the bay area, leads him to create gardens that are not only gorgeous and high-quality, but also sustainable. Clay's favorite aspect of designing gardens is seeing how his work ultimately enhances the desired ambiance and unique lifestyle of each of his clients.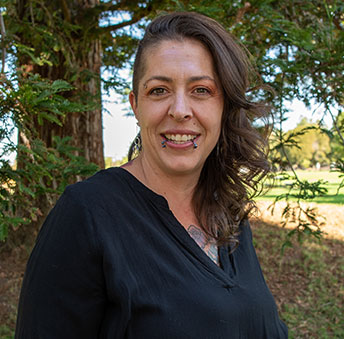 Meet Emily
Emily McKamey is our Office Manager and Bookkeeper. With over 20 years of experience working for smaller construction companies, Emily knows more than just the office. Emily studied Business Administration at Diablo Valley College and is passionate about timely and accurate bookkeeping. If you have any questions regarding billing or need to update contact information please contact her.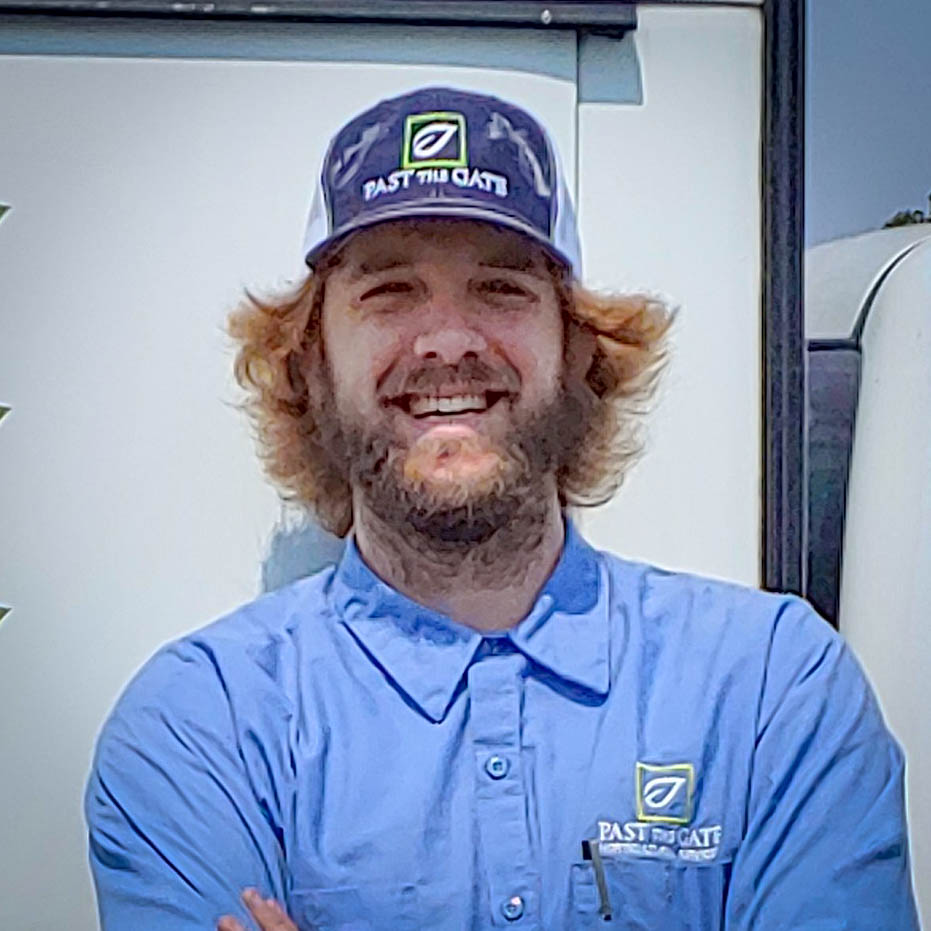 Meet Jacob
Jacob joined our horticultural services team in March of 2020 and is here to help with all your fertilization, pest and disease control. Jacob's passion for plant care started while working in a local family owned nursery in high school. He spent years learning different local plant species and their preferred growing conditions. He has been persistent in his training on pest and disease identification and is quick to identify the needs of your garden for its optimum health. Jacob works closely with our fine gardening maintenance crew to create a long lasting healthy growth cycle for all of your plants, trees and grasses. Meet Luis
Crew Leader Luis Garcia has been with Past the Gate for 24 years. In this time, Luis's incredible work ethic, extreme intelligence, and drive for precision in all aspects of construction have been key elements in the transformation of countless Bay Area gardens. Luis is a master of general landscape construction with special focuses in woodworking, masonry, concrete, and metalwork. Luis runs a specialty crew that focuses specifically on the flow from indoor to outdoor, thus modifying homes with the installation of doors and windows to create better access, flow, and views to the garden. Luis also performs custom fabrication of metalwork elements, enabling Past the Gate to offer our clients that special one-of-a-kind touch.
Luis is responsible for overseeing all of Past the Gate's crews and foremen. Luis checks all job sites daily and assists in completion of complex tasks where needed. Luis' skill set and passion for perfection ensure our clients have the gardens of their dreams. Meet the Maintenance Crew
Juan and Jose have been heading our fine gardening department for almost 2 years and are continuing to grow! Juan has over 10 years of experience with pruning, water management, soil monitoring and a love for creating beautiful well-kept gardens. Jose joined Juan 2 years ago and has been learning proper tree, shrub & plant care to add to his irrigation and construction skills. Juan and Jose visit our maintenance customers homes every other week to ensure all plants are thriving and irrigation and lighting are working properly.